Marble Woka Woka
2.015.05
Match 3 Game – Blast all the Marbles
Are you good at matching same-colored items? Do you like blasting marbles? If yes, then this match 3 game is an ideal choice for you. Marble Woka Woka is a fun game in which you get to help Woka in clearing the marbles that have been scattered all over Hawaii. Woka is a turtle that needs your help in dealing with the marbles blasted out by a volcanic eruption. You will need to match the marbles of the same color to blast them from the queue that is heading towards the pit. If the marbles reach the pit, you will lose a life. Since you have a limited number of lives available, you don't want to lose them. The lives do get replenished but only after a specific amount of time has passed.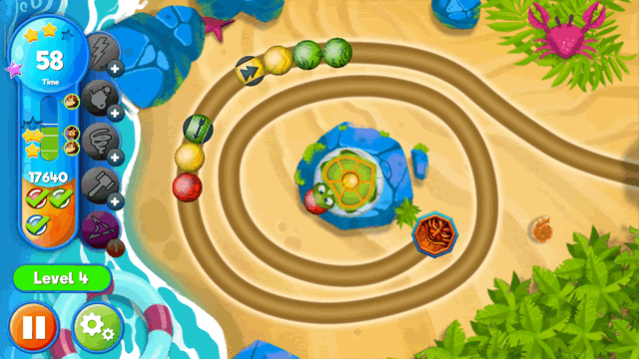 Marble Woka Woka has smooth gameplay that combines well with the colorful graphics to bring you exhilarating gaming experience. You will find the controls of this match 3 game easy to understand as well. A queue of marbles will be heading towards a pit and your job would be to blast them all. You will need to shoot marbles at the queue and try to make matches of 3 or more with same-colored marbles. Shooting the marbles requires you to tap on the marble you want to make a match with. Since the queue would be hastily moving towards the pit, you need to keep shooting the marbles quickly. If you get a match, the matched marbles will be blasted and will vanish from the queue.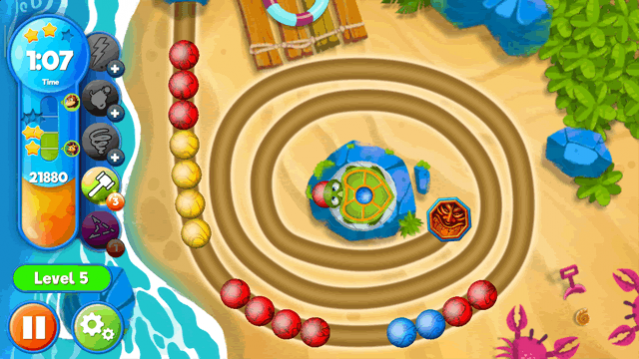 In this match 3 game, you will get the chance to create combos as well. These combos are not only good for blasting multiple marbles at once but they also provide you with useful power-ups. You can make use of these power-ups to blast the queue of marbles before it can reach anywhere near the pit. Aside from the power-ups, you will also see special symbols appearing on the marbles while the queue is moving. These special symbols can help you too and provide a special power if you can activate them. To activate a symbol, you will have to create a match with the marble on which the symbol is displayed. The special powers that these symbols provide can be useful in getting a high score.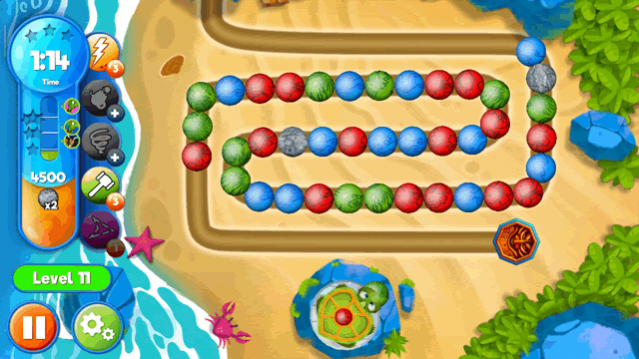 Marble Woka Woka isn't an easy game to play. Especially the higher levels of this match 3 game can become extremely hard. You will find it almost impossible to blast the queue of marbles before it reaches the pit. However, you don't need to panic. There are powerful boosters provided to you specifically to tackle these harder levels. You can unlock these boosters by completing specific levels. Each booster has a different function and can help you in achieving your goal to complete the level. But, you need to keep in mind that these boosters are in short supply. So, you need to use them wisely.
Features:
Match at least 3 marbles of the same color to blast them
Blast all marbles before they reach the pit
Lots of challenging levels to complete
Different objectives to achieve to complete levels
Several powerful boosters to help blast the marbles
Unlock boosters by completing levels
A limited number of lives available
Match marbles with special symbols to gain advantages
Create combos to gain useful power-ups
Complete quests to earn great rewards
Play against friends to see who has the highest score
Conclusion:
Marble Woka Woka is a gaming app that is marketed towards people who love playing matching games. It offers them the chance to showcase their matching skills and blast all the marbles before they reach the pit. It is a colorful match 3 game and you are going to enjoy playing it a lot in your free time.
---
Add a review
Tell us your experience with
Marble Woka Woka
2.015.05
RELATED PROGRAMS
Our Recommendations
---
---
---
---